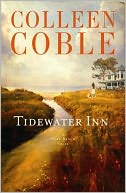 Tidewater Inn
By: Colleen Coble
Tidewater Inn, by Colleen Coble was a great read. Coble does a great job mixing Scripture and promises from God with Love and Romance and a little mystery.
Libby and her friend, Nicole are heading to Hope Island to restore some old buildings. She also found out from her friend Nicole who got to the island early that she has inherited land from a father she has never met, who died just a few months prior.
Unfortunately, the Inn that Libby has inherited needs a lot of upkeep and there is an investor who wants her to sell it. She also becomes aware of a brother and sister whom she has never met and who are not too fond of her and the fact that their father left the Inn to her.
Before Libby leaves for Hope Island, she is talking with Nicole and watches on a web cam her friend's abduction. She gets to the Island as fast as she can. As she is seeking to find her friend and enlisting the help of others, she meets Alec, a Coast Guard Lieutenant and fisherman who helps her in the search.
Obviously, you can see the mystery and romance, but what Libby learns in the process is the ability to trust God and to ask "What Would Jesus Do?" in this situation.
I find myself asking the same questions at times. God is good and he has a plan for our lives. He also puts us in situations that enable us to trust him more and more. I always enjoy reading a good romantic fiction story that is laced with Gospel Truth.
Thank you Booksneeze for allowing me to read and review Tidewater Inn.