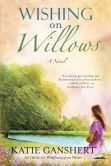 Wishing on Willows
By: Katie Ganshert
I have found a new favorite author! Katie Ganshert sure knows how to deliver a power-packed book! I enjoyed her first book, Wildflowers From Winter, and I enjoyed my most recent read of Wishing on Willows.

Robin, a widowed single mother, lives and owns a cafe called Willow Tree. She has a few workers and a few customers and loves to play the piano that was given to her by her mother. Ian, a development contractor, who works for his father out of Peoria, has been called by the mayor of Peaks to build condominiums. Due to the recession Peaks has to had a lot of people coming to town, and Ian's father's business isn't doing so well either. Ian needs to make the sale for the development of these condominiums in order to help his father's company and redeem himself in the eyes of his father. However, there is one person standing in his way, Robin.

As Ian gets to know the town and the people living there, he comes to feel a sense of home there, except for the one person standing in his way whom he also is starting to get feelings for. Through the experiences of working with such an intimate town and seeing how family sticks together Ian learns more about himself and so does Robin.

Ganshert really knows how to write a conclusion as well. She gives you just enough and allows your imagination to fill in all the missing pieces, which I love.

I am excited to read more books by Katie Ganshert. She writes like all of my favorite authors and keeps me interested to the very end.