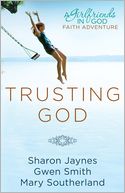 Trusting God: A Girlfriends in God Faith Adventure
By: Sharon Jaynes, Gwen Smith, and Mary Southerland
Trusting God:

A Girlfriends in God Faith Adventure

, by Sharon Jaynes, Gwen Smith, and Mary Southerland is a 12-week devotional study about learning how to trust God, one step at a time.
I really enjoyed going through this devotional study. The three women authors have chosen topics that are issues for women who are struggling to trust God. Each week has five devotional readings with a final section called "Now it's your turn" an opportunity to reflect on what you have read and to answer questions and journal. When I was going through this book, I did not read one devotional a day, I read several, because they were so quick and fun to read. However, if I was using it as a devotional, I can see the benefit of really taking your time to read through the devotions and meditating and memorizing the scripture that is provided for you at the beginning. I did find myself stopping to pray the prayer at the end of each reading and even adding more of my own prayer to God.
One thing I wish this book had is for each week in the Table of Contents to be labeled with a theme. When I think about going back to use this as a devotional book on my own, I may not want to go through week by week but choose readings that would apply to my life. However, this is not specified very clearly.
Otherwise, I truly enjoyed the devotionals in this book. I look forward to reading it again. Thank you WaterBrook Multnomah's Blogging for Books program for this great devotional.