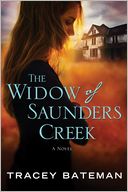 The Widow Of Saunders Creek
By: Tracey Bateman
I was quite torn reading this book. On one had I absolutely loved the storyline and the way it was written, and on the other hand I was having a hard time relating to the storyline.
The Widow of Saunders Creek, by Tracey Bateman, was an intriguing read. It is written about a woman, Corrie, who is recently widowed by her late husband who was killed on a mission. He left her his grandparent's house in the town where he grew up. They were planning to live there together one day. She moved in and hired Eli, Jarrod's (her husband's) cousin, to do the renovations on the house. While Corrie is there, strange things happen throughout the house, doors slamming, things breaking, etc. She thinks it is Jarrod's spirit wanting to speak to her and know that he is still around for her. This is the part of the story that I am not sure if I like. I understand that there are people out there who believe in spirits and ghosts haunting a person or a place. However, I don't. I was having a difficult time imagining how these things were just happening in the story. However, Bateman, wrote about the power of God in a way that can send shivers down your spine.
All in all, I really enjoyed the way this book was written. It would bounce back from Corrie to Eli, so you always knew whose thoughts you were reading, which I really liked. The setting for the story was quite unique and fun. However, I would have picked something a little different for the title as I was a bit apprehensive about reading this book based solely on the title.
What a great read! Thanks to WaterBrook Multnomah's Blogging for Books Program.