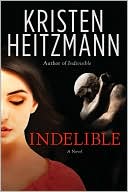 Indelible
By Kristen Heitzmann
Indelible by Kristen Heitzmann was awesome! I am so glad I got to read this book. I skimmed some reviews before requesting to read it myself and was not disappointed by what people had to say. The plot for this book was very different than any I have ever read and really kept my focus and attention.
Natalie is the main character and has an Eidetic memory, where she keeps seeing something as though it is still there. Her way of coping with this is to sculpt the images she sees into clay. Once she sculpts the images, they go away and she is able to "see" again. She believes this gift to be from God, a way of seeing things as he does. The images she sees have an indelible (making marks that can't be removed-had to look that one up!) imprint until it is transferred to the clay. Trevor, the other main characters is a well-known Olympic skier, who no longer skis due to an accident. He has a gift as well. Helping people.
The strange part about this book is that before the end of each chapter, there is a separate "writing" from what appears to be a "demon". This person is confused and lost and is looking for "help" in the only way he knows how. These sections before the end of each chapter were written with a different "language" from the rest of the book and therefore, a little confusing to follow.
Overall, I loved this book and would recommend it to anyway. I can't wait to read the other book available by Kristen Heitzmann.
I received a copy of this book from Waterbrook Multnomah's Blogging for Books program.