Yeah! Another love story to read! :)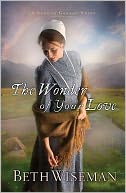 The Wonder of Your Love
By: Beth Wiseman
I really enjoyed reading The Wonder of Your Love by Beth Wiseman. This novel is based on the Amish, and with any other Amish story I have read, it was very predictable, yet enjoyable. I was engaged from the very beginning because the characters are very believable and we are welcomed into their community from the start.
Katie Ann is a new mother and recently became single, however, it is not in the Amish Heritage to divorce. Her husband left her for another woman, did not know she was pregnant, and passed away before The Wonder of Your Love began. Martha, Katie Ann's best friend is a true character! I just loved the fun that she brought to the novel, being that she was an English woman, and not Amish. If she had something to say, she let you know what was on her mind! Eli, a man who has just finished raising his children and is ready to travel and be independent, also finds love that he is unsure of, love for Katie Ann.
The story continues to unfold as we see Katie Ann and Eli figure out their relationship, with help from everyone around them. If you enjoy a love story….this is a good one!
I received this book from Booksneeze. I did not receive compensation for my thoughts.