A Reluctant Queen the Love Story of Esther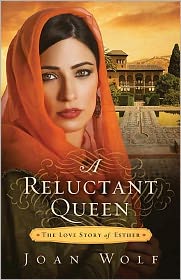 I could not put down A Reluctant Queen the Love Story of Esther, by Joan Wolf. It was beautifully written, taking Historical Biblical fiction, and writing it as a love story, which if you have read any of my other posts, I absolutely love a good love story. I do not normally read the Author's note, however, I found it to be helpful reading this version of the book of Esther. The author wanted to create believable characters that would transform the original book from the Bible into a love story. She succeeded! The characters were very believable, and the plot moved quickly, so quickly in fact that I had to slow down in order to savor the book!
I enjoy reading my Bible, and I am looking forward to rereading the book of Esther to make some comparisons from this story. I encourage everyone to read this story when given the chance. Thank you Booksneeze for the opportunity to read such a great book!
Disclosure: I received a review copy of A Reluctant Queen the Love Story of Esther through Book Sneeze. I received no compensation for my thought.