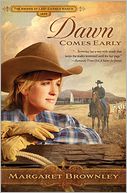 Dawn Comes Early
By: Margaret Brownley
Dawn Comes Early by Margaret Brownley was a fun story set in the West on a Cattle Ranch. Kate Tenney, from Boston, is a writer, but not just any writer. She writes dime novels and when she chose to write a scene that some thought was too "riskay" her book was banned, and frankly, so was she. So, she applied for a job in Cactus Patch Arizona to be a heiress to a cattle ranch. When Kate first arrived she meets up with Cactus Joe, an outlaw, trying to be like the famous Jessie James. Kate finally gets to the ranch with the help of Luke Adams, a handsome blacksmith. Notice the word handsome, yes, this is a love story! At the ranch, Kate learns from the cowhands what needs to be done and how to do it, but her learning comes with spills and dumps, from her horse that is.
Kate finally begins to feel comfortable at the ranch, but also keeps bumping into Luke Adams. She knows that in order to own the ranch she must never marry and she tries to keep her eyes set on her prize. But, the Lord, always the Lord, has different plans for her.
Read this fun romance, and you will not be dissapointed. One underlying message that is always a joy to read is this: "I will never leave you nor forsake you" says the Lord.
I received a copy of this book from Booksneeze for my honest thoughts and opinions.