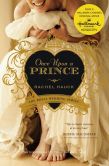 Once Upon A Prince
By: Rachel Hauck
Once Upon A Prince by Rachel Hauck was one romantic love story I didn't want to put down! Beautifully written, full of culture and history, it was the perfect blend. As with other books I have written by Hauck, I was immersed in the book from the very beginning.

Susanna, a woman from Georgia thinks she has life figured out, a plan of all plans. Her military man will come home from deployment and after 12 years of being together he would finally propose! Or so, Susanna thought.

Nate Kenneth, in Georgia on holiday from Brighton Kingdom, is visiting his cousin and decides to get out for a bit. Meeting Susanna at Lover's Oak after her breakup was not a coincidence, but truly ordained by God. The two enjoy some time together and learn a bit more about each other, but not everything.

Susanna, a struggling landscape architect hopes to find work in all the right places, yet is looking in all the wrong places. Nate and Susanna's friendship grows when he asks her to fix and landscape his father's garden in Georgia. Suddenly, Nate must go home, and both pine and long for one another 4,000 miles away.

A tale of romance and finding yourself. I truly enjoyed this novel by Rachel Hauck.