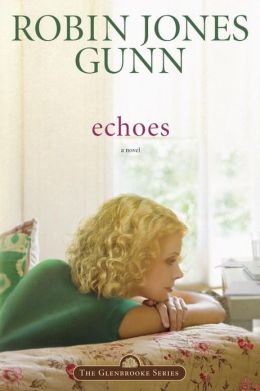 Echoes
By: Robin Jones Gunn
Echos, the third book in the Glenbrooke series was a fun sexual to the plot that started in book one, Secrets. The majority of the story did not involve any of the characters from book one until closer to the end, which allowed for a really nice twist and really brought the Story based in Glenbrooke together.

Lauren, at the start of the book is engaged and will soon be married to Jeff. However, he turns about to be a very different man than she became engaged to and broke off the engagement when an offer to move and work in New York presented itself. Lauren, heartbroken, did not know what to do or what to think.

Her brother came, bearing gifts, most useful to her was the computer he installed, and she began a correspondence with K.C.. Over the course of a year they shared many things, including poetry by their favorite authors and a shared book on scripture. Lauren had fallen in love and eventually, K.C. Asked if they could meet. Lauren, unsure of the relationship for the first time was hesitant.

As mentioned, this book series has a really fun plot, and in order to find out what happens to Lauren, this book is a must read, especially if you have read book one, Secrets. I have not had the chance to read book two, but it was not necessary as each book has their own plots and stories, the characters are simply woven throughout which I think is very fun! Enjoy!