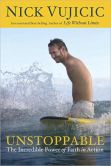 Unstoppable by Nick Vujicic was written very well and with great purpose, but read much like a self-help book. I was not expecting this at all when I first decided to read this book.
As mentioned, the book was written very well. Nick Vujicic had many wonderful things to say about Faith and believing that God is good and that God has a plan. Overall, the writing felt repetitive at times. It was definitely geared toward those who are disabled but anyone can glean some new knowledge and affirmation about our gracious Lord by reading this. The message conveyed in this book is powerful, knowing that God can use you where you are as long as you have Faith and are willing to put Faith in action.
A great verse to be left with is 2 Corinthians 1:3-4, "Blessed be the God and Father of our Lord Jesus Christ, the Father of mercies and God of all comfort, who comforts us in all our affliction, so that we may be able to comfort those who are in any affliction, with the comfort with which we ourselves are comforted by God."
God gives comfort, and God calls us to comfort others in need. This is Nick Vujicic's true message for writing the book Unstoppable.